Miss Barbara's Montessori Materials
My name is Barbara Dubinsky. I was been involved in the Montessori community for 45 years, through my own children, as an assistant, administrator, Lower Elementary teacher, Upper Elementary Teacher and then as a trainer.

This year I have retired from the classroom. As I think of what I now want to do, I thought I would offer another service to the community. One of my great loves is to make materials that are specific to the focus of my own students. When I purchased materials, I found them to not have enough reading or to not quite address the point I was trying to make. I therefore, hesitantly, have decided to venture into the realm of making materials – but with a twist.

You tell me what you want. I will research, come up with matching card material and send it to you laminated on 3 mil plastic. If you pay in advance, I will even let you proof what I develop. I am struggling to come up with a price that is worth my effort, but reasonable for classrooms that struggle with finances. So, if it is a material that I have already developed and just need to tweek, I think $50.00 is good. If it is a material that I have to really work to put together, then I will charge more. I also put a list of some of the materials I have made at this site.

You can contact me using the link at the bottom of this page.

List of Materials:
Religion: symbols, general belief, leaders, places of worship ( Upper)
Word Problems (Lower)
Spelling word of all long vowels (Lower)
Globe Cards
Math work ( 2 + ___ = 6) missing digit in addition and subtractions
Math work (2 __ 3 = 6) choose operator
Math mystery pictures for place value
Math coordinate point pictures
Work for nouns: people, place, things – can be specific to your area
Work for nouns: different kinds
Work for verbs: different kinds
Science: Upper El
Science: I have picked a work I made this summer as my last work for my old class. It is a work on the butterflies of NC. They are divided by their classification with one or two examples of each.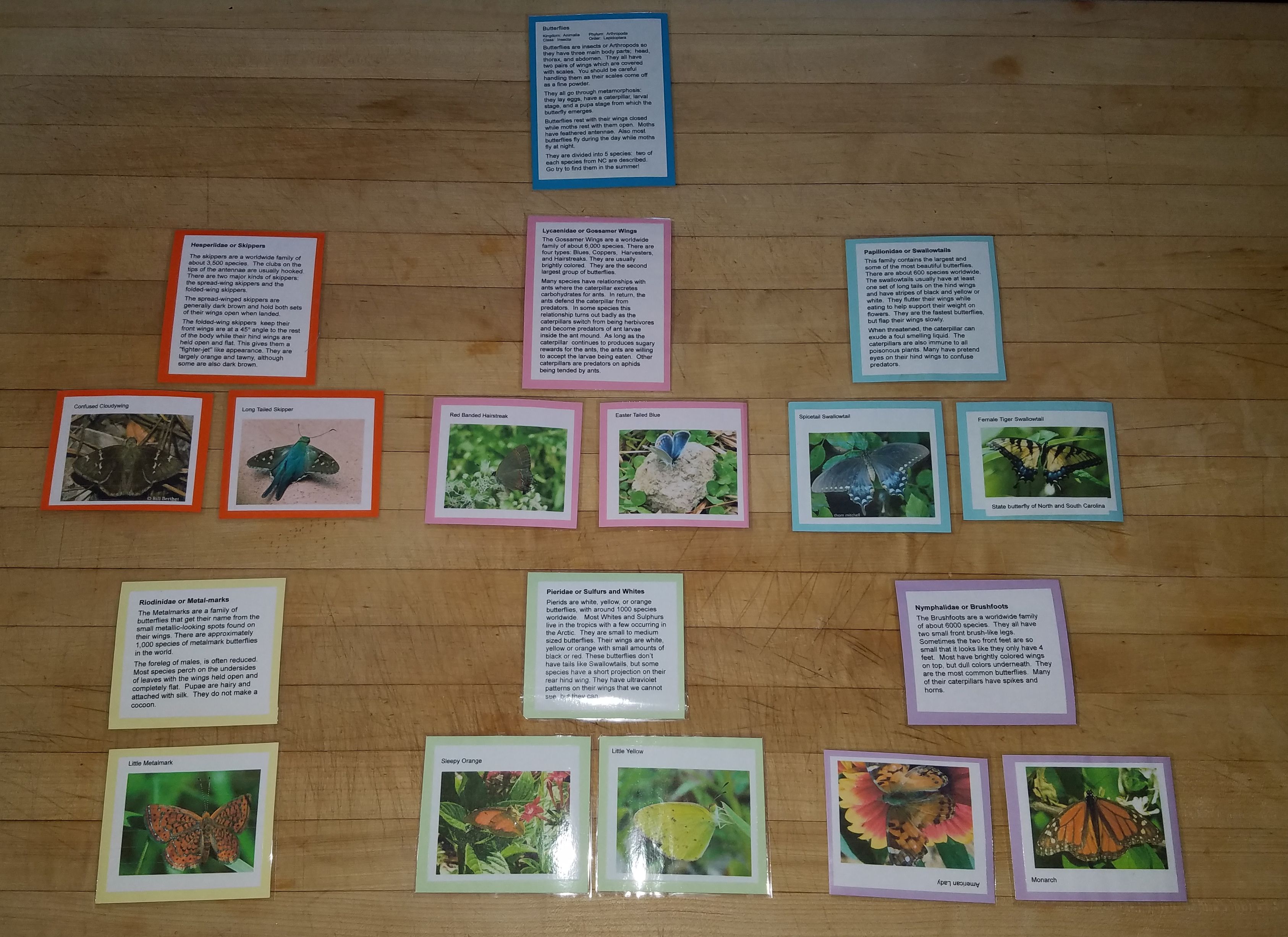 Click on image to zoom
---
The Great Lessons
Twenty five years ago, I joined the movement of Montessori into the public schools - a most exciting expansion. I taught at a magnet school in Charlotte, NC. It is both challenging and ever so rewarding at the same time. Our school is given much freedom to do what we need to do as Montessorians; we have fought fiercely to have this freedom and have proven that what we do is the best system for children.

For many years, as a member of the Montessori Educational Listserv ( listserv@aol.com - write Subscribe Montessori-L in the body of the message) I saw many questions about the Great Lessons themselves and how to keep the work of the Great Lessons active in the class. I had previously written a webpage (missbarbara.net) providing easy access to sites that supported research in linked areas, but began to feel that a site for teachers was also needed. So, this page was written to help teachers integrate the Great Lesson work.

I also pulled together all my Great Lesson work into four albums. They include all five Great Lessons, follow up work in the Universe, Earth sciences, Chemistry, Functional Geography, Bacteria, Zoology, Key lessons, Classification, Botany, Civilizations, and Interconnectedness. I have posted the table of contents for the albums. I hope this better enables you to know if they meet your needs. If you would like to see something else included that is not listed, please drop me a line at my e-mail address below. The language support work is formatted and pictures are provided as needed. The albums can be purchased from Paypal.com for $85.00 by clicking here. I hope my work continues to support your work. I have worked with so many talented, creative, kind, nurturing young people and can only hope that your experiences are similar. Be sure to fight for your right to stay true to Montessori's curriculum. Just allowing students o choose work is not enough - they must be doing cosmic work introduced by the Great Lessons. If I can ever be of service to you, e-mail at bdubinsky32@gmail.com.

This year my students again voted to do a play for our Winter Village Celebration. Three third graders surprised me by asking if they could write the script. I advised them that the play had to accommodate 45 parts as we had invited another class to join us. I would also need a script by the end of November. They had a month. They told me they were writing a play on early humans as we had ended there last year. They were very busy writing on the computer and gave me their notebooks only a few days late. I took them home that weekend and much to my surprise, it was really good. They had scenes with saber tooth tigers and mammoth hunts and clearly understood the progression of human life. I have added a bit to smooth the transitions, but the heart of the play is there's. We performed it this year and now I am sharing it with you. The students had such a good time acting this play out. Look under The Early Humans section. I hope you enjoy!


---
| | | |
| --- | --- | --- |
| | The First Great Lesson weaves a tale of the origins of the universe and our own planent. Using impressionistic charts and experiments directly related to the basic physical properties of matter a foundation is made for the future study of physics, chemistry, astronomy and geology. | |
| | | |
| | This time line represents the beginnings of life on Earth from the simplest forms through the appearance of human beings. A great variety and magnificence of life is presented, with each organism a contributor to a vast, ineffable cosmic scheme. | |
| | | |
| | Continuing the exploration of life on Earth, this time line stresses the development of humans from the earliest beings through the use of tools. | |
| | | |
| | A theme area rather than a specific time line (although time lines may be developed), this follows the development of writing from its appearance in primitive cultures to its role in modern society. | |
| | | |
| | Also a theme area, this lesson involves the use of mathematics as an expression of the refinement of the human mind and as a response to the specific needs as well as the shared needs of human groups. | |
| | | |
| | A play that incorporates the first three Great Lessons. | |
| | | |
| | A collections of journals from the first Great Lesson. | |
If you have any advice, experiences to share, or items you might like to post on this page please contact me via e-mail at:
bdubinsky32@gmail.com